In 1996, I was 14 years old and in love with hockey. In those days, it was actually quite normal for kids to play outside (gasp!) in the streets (GASP!), and one of my best friends at the time was a fellow street hockey guy named Dan. Dan lived around the block from me and was–and still is!–a fellow New York Rangers fan. He knew I had never been to Madison Square Garden for a Rangers game before, and apparently, this was not okay with him.
One night in late March, there came a knock on my mother's front door. Standing on our porch was Dan, accompanied by his father, Phil. They proceeded to invite me to the April 2 Rangers game against the New Jersey Devils. I was beyond ecstatic. I was going to be seeing some of the greatest players in hockey history…Mark Messier, Brian Leetch, Mike Richter and Adam Graves, to name a few…IN THE FLESH! The game was awesome…at the height of the Devils-Rangers rivalry, there was fast-paced action, plenty of exciting moments, and the crowd was simply electric. Alexei Kovalev scored 2 early goals and Messier sealed the deal with an empty-net goal for a 3-1 Rangers win. During the car ride home, I thought to myself that I should somehow find a way to repay Dan's father for bringing me to my first-ever game. I swore to myself that I wouldn't forget.
And then I forgot.
What can I say? When you're 14 years old and growing up, life is a blur, and it's very easy to forget things. After all, EVERYTHING is a distraction. You have to start high school…classes are difficult…teachers are intimidating…there are so many faces in the halls…girls' legs grow longer…you get your first car…you hang out at the mall every weekend…etc., etc.
Years and years went by, and Dan and I fell out of touch. And, during all the countless times that I returned to my hometown to visit my mother, I never did think to simply walk around the block to reconnect with Dan's dad.
Until one day…I did.
Although it took me a bit longer than I would have liked, I'm pleased to share that I did indeed make the walk around the block. 17 years after my first Rangers game with Dan and Phil, I strolled around the block to my buddy Dan's house. Dan has long since moved out of our hometown and is making a life for himself in San Francisco. But that's okay, because I wasn't looking for Dan…I was looking for his father.
Phil came to the door, and I could tell right away that he didn't quite know who I was at first. I said to him, "My name is Steven Feigenbaum, and believe it or not, you took me to my first-ever Rangers game when I was 14 years old. I'm here all these years later to return the favor."
He smiled, politely accepted my offer, and I'm pleased to share that the two of us were in attendance at Madison Square Garden on December 15, 2013 (exactly three years ago today), for another Rangers game.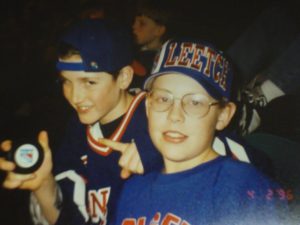 Madison Square Garden–April 2, 1996